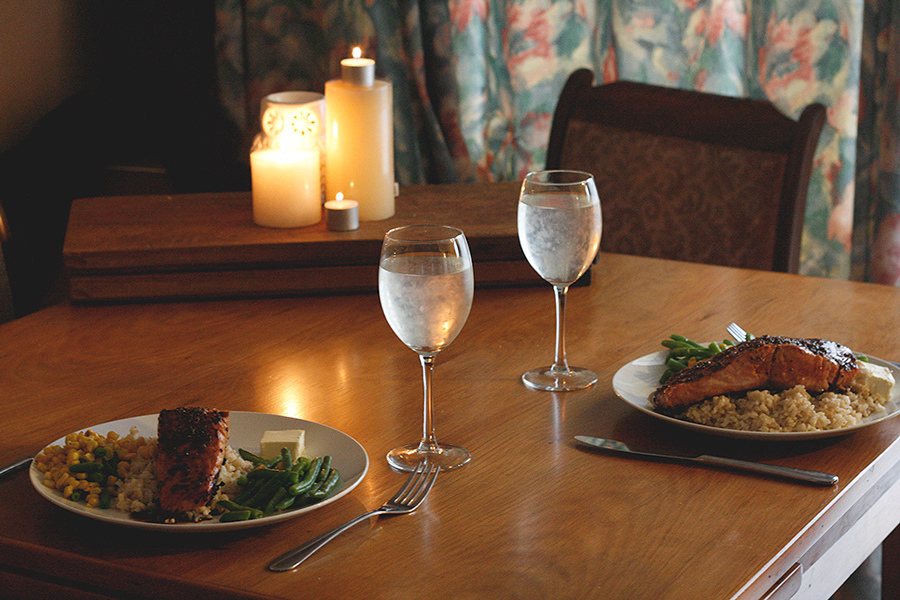 Valentine's day is literally knocking at your door, and it's time to start thinking about what you can do in order to make your better half feel loved and special. Rather than spending your time amidst so many others in a busy restaurant or going to the movies, you can do something at your home. How about treating your Mr. or Ms. special to a gourmet dinner right at home? It is the easiest way to show how much you love them and how well you know the kitchen. You can even do this together to get an interactive and fun start to your night.
Here are a few recipes that you should try this 14th of February –
Shrimp Puttanesca –
Valentine's day without wine? So, open your favorite bottle of red wine and give it the time it needs to breathe as you dive deep into the process of cooking a seafood dish. Once the food is done, pour in the wine, and Salud!
The recipe –
Start by cooking 12 oz. of linguine pasta according to the instructions in the package. You have to reserve a cup of that cooking liquid before you drain the pasta. Once the water is drained, add two teaspoons of lemon zest and one-fourth cup of freshly squeezed lemon juice into it. Give it a toss and add red chili, after it is thinly sliced.
Let the broiler heat up. In the meantime, toss 12 oz of cherry tomatoes after halved from the middle, finely chopped two anchovies, and a pound of medium-sized shrimps that have been deveined and peeled, drizzle a tablespoon of olive oil on all of it. Do this on a large rimmed baking sheet. Keep in it for six minutes. The tomatoes are going to burst open, and the shrimps will change to opaque. Transfer all of this to the pasta pot. Then add one-fourth cup of olives, a tablespoon of olive oil, half cup of chopped parsley leaves, and one-fourth cup of grated Parmesan. Give it a gentle toss and cook well. If it seems too dry add the cooking liquid that you have reserved.
Hoisin chicken and snow peas –
An Asian style chicken dish with some charred snow peas is perfect to set the tone for your night.
The recipe –
Bowl your lover with this comforting yet delicious dish. Then, heat the oven to 450°F and cook a cup of long grain white rice according to directions mentioned in the package. Use a non-stick foil and line it with a rimmed baking sheet. Season four small pieces of chicken (choose the leg pieces) with one-fourth teaspoon of salt and pepper. And, let it roast for a minimum of fifteen minutes. After fifteen minutes brush the chicken pieces with hoisin sauce and place it having into the oven. Use another baking sheet that is rimmed with non-stick foil and add a pound of snow peas after tossing it with two teaspoons of olive oil. Don't forget to add half a teaspoon of crushed red pepper flakes and salt to it. Let it cook unless the snow peas are charred, and the chicken is roasted. It will take five to seven minutes. Place the chicken over a bed of cooked rice and add the charred snow peas on the side. Sprinkle it with some cilantro.
If you lack anything relevant to your dishes check out the Just Eat promo code. You are going to love every bit about these codes that come with massive discounts and great offers.
Brownies –
Valentine's day and no dessert? Can that ever happen? We don't think so. Check out this amazing recipe to bring your Valentine's day to a happy and sweet ending.
The recipe –
Preheat the oven to 325°F. You will need to grease a baking sheet of 18*13 inches with some cooking spray. Line it up with a parchment paper. In a bowl whisk together one-fourth teaspoon of kosher salt, half a cup of cocoa powder, and a cup of all-purpose flour together. In the microwave melt together 8oz. of chopped bittersweet chocolate and two sticks of unsalted butter. If it doesn't melt after thirty seconds stir it and melt it for another thirty seconds. Add 1 ½ cups of sugar and four large eggs to this and combine well. Add the flour mixture and fold all of it together. Transfer this batter to the pan and bake for 9 minutes. Allow it completely cool down in the pan and then cut it in the shape of brownies. Keep it in the refrigerator to get firm. Serve with a dollop of vanilla ice cream.
These are some of the best and easy to prepare recipes for this Valentine's day.