Food in Kyoto is top-notch, from street food stalls to Michelin-starred gastro-temples. Many specialty restaurants are decades old and are passed from generation to generation, other establishments are fresh and bring new concepts, and they come with full force. Here you can enjoy one new concept of Ramen.
Le Sel, which means salt in French, is an unusual name for a ramen shop in Japan, but it perfectly suits their modern take on classic dishes. Organic ramen, all-natural, with the highest-quality ingredients, and deep respect for pure flavors and umami deliciousness. As Salt is fundamental for cooking, it includes that meaning that Le Sel to be fundamental for everyone who visits Kyoto. That is why the deliver a vegan menu to suit all the tastes of the world.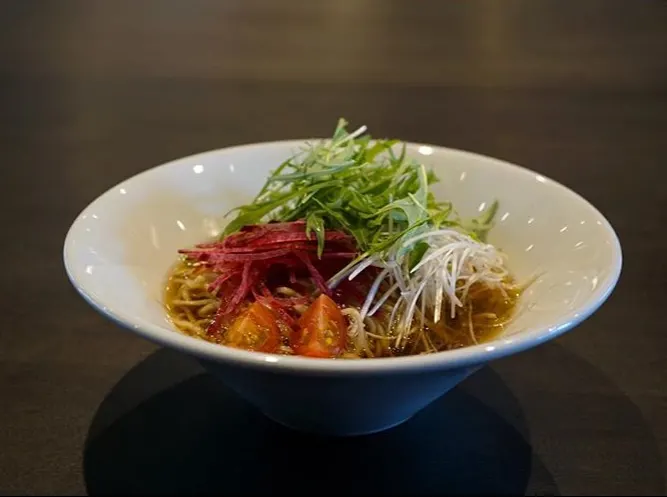 Seasonal, natural, and creative. Dining in Le Sel might be the best alternative when in Kyoto, and here's why.
Le Sel is located in the eastern part of town, in a small commercial alley in the Higashiyama ward, near the GionShijo station. It's easy to spot for its wide window front and its modern decor. The main focus is a large, slick bar with twelve seats around a modest but modern open kitchen.
Light is dim, everything is pristine, there are no distractions, as all eyes focus on the kitchen staff and the marvels they come up with. This is no ordinary ramen shop; this place offers an experience; an entire meal; A delight for all your senses. But when you enter the restaurant one thing you can see familiar with a Ramen shop, the ticket vending machine. Even the look is like a high-end restaurant, but still in the feeling of normal Ramen shop is the new fusion that you can feel.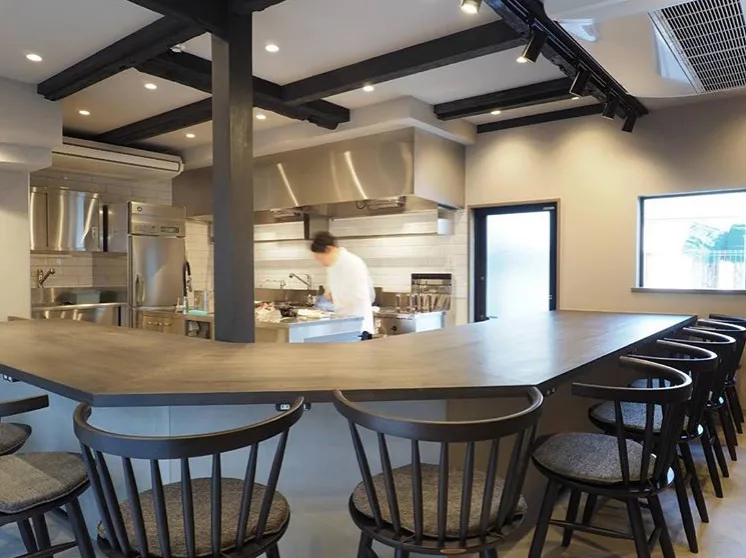 Ramen is usually fast food, that you eat and go out in 15 minutes, but in Le Sel, Chef Tajima-san prepares in a different style as kaiseki style as a multi-course menu with seasonal produce and excellent instincts. This is one specialty for Le Sel. If you are in Kyoto, they want you to enjoy the time and relax. Dishes change regularly, but there's a method behind this delicious madness.
There will be3 courses,which starts from appetizer,ravioli, rice and last 3 kinds of Ramen. You'll start with a series of two-bite sized appetizers, all sophisticated ensembles of organic ingredients prepared Obanzai style with French technics.
Obanzai is a term forged in Kyoto for traditional cooking techniques and recipes based on local, seasonal food, paired harmoniously, with special care on wasting nothing.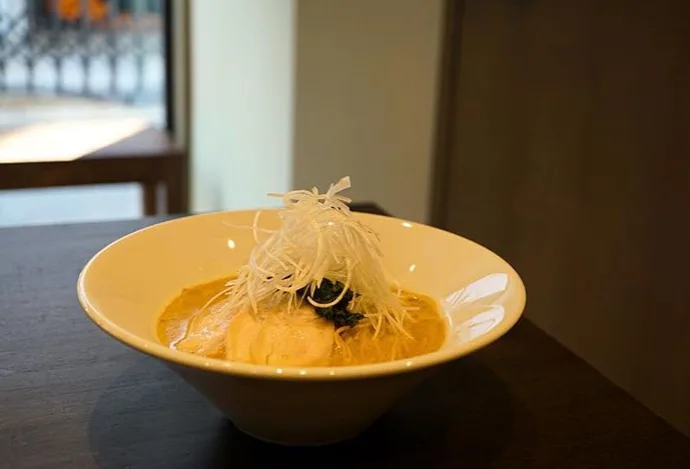 Stewed vegetables, mushrooms, seaweed, lotus root, beans, and baby bamboo shoots are often used, but the menu depends on the generosity of mother nature.
But both not in a normal style, because Le sel is produced by a Michelinone-star French restaurant in Tokyo, you can enjoy the technics which fusion with Obanzai.
Next comes the rice dish, and despite its name, there's no lack of creativity. Not only rice, but it is also cooked with Green tea that you can feel the Kyoto feeling by the aroma of the freshness and roasted flavor. It may come with a house-made egg and other delicacies. But don't worry even you eat rice dish, there is still room for the main. The exquisite control of quantity is there too.
Now you're ready for the star of the show — ramen. Different styles of ramen, including a flavorful fish broth with fresh ramen. A wide variety of cured and dried fish give the broth umami richness. Spanish mackerel, tuna, bonito, iwashi, all are bringing something unique to the mix.
The chicken ramen is growing in popularity. Organic, non-GMO-fed chicken, raised without antibiotics, creates a thick, creamy broth, mixed with perfect noodles and topped with tender chicken meat.
But what is the most special is Vegan Ramen. Normally if vegan people give up the thickness, umami. But here it is different. They want to answer all the tastes of people as they wish. Here too they bring in French technique as for the soup. The main is cabbage, but with onion, radish, green soybeans, and other vegetables they mix it with soymilk. This technique to let enjoy the burnt too will be special. Even they don't use meat, fish you will be surprised for the thickness and the taste of it
With the soup, there will be a thin noodle that works well get entangle with the soup. Maybe at first, you won't feel enough but when it comes to your second, third bite you will enjoy more. Finally, you will finish the dishes.
Desserts are as good as every other dish, simple, tasty, and beautifully plated. Whole course will deliver the satisfaction that you cannot enjoy by just one ramen bowl. The course will bring the most excitement and new combination that you can only enjoy in Le Sel. Of course, not only the food they commit for the drink as well all the drink like beer, the wine will be wholly organic. Especially is the one will be served when you sit the organic tea which will be served in a wine glass, you can feel the French feeling from here too. All the point is fulfilled with commitment.
Le Sel has no competition: organic, fresh, seasonal ingredients turned into a progression of smart, soulful dishes in an intimate, comfortable, eatery in a hidden alley in Kyoto. What else do you need?
Together with the thrill of new, inventive dishes all the time, Le Sel is a place to visit every time you're in Kyoto. Enjoying the time, enjoying the meal, enjoying the atmosphere, Le Sel will be the best answer and it will be a good idea to visit a regular in places like this. For more information please click here
https://www.instagram.com/le_sel_kyoto/?hl=en and https://tabelog.com/en/kyoto/A2601/A260301/26032217/