When you cook foods, you should make sure to use quality cookware. It's not only better for your health but can also help you produce restaurant-like dishes at the convenience of your kitchen. Cookware sets come in different sizes and feature different materials suitable for a variety of cooking styles and skills. I'm sure you have seen those T-fal commercials where they promise this cookware is the best thing that you could get, but don't trust it blindly. In this article, we will go through the main features of T-fal products.
What is anodized cookware?
Anodized aluminum features oxide that is so durable that it significantly enhances the properties of the original material. It has no harmful chemicals and lasts for years. The material is corrosion-, abrasion-, and scratch-resistant.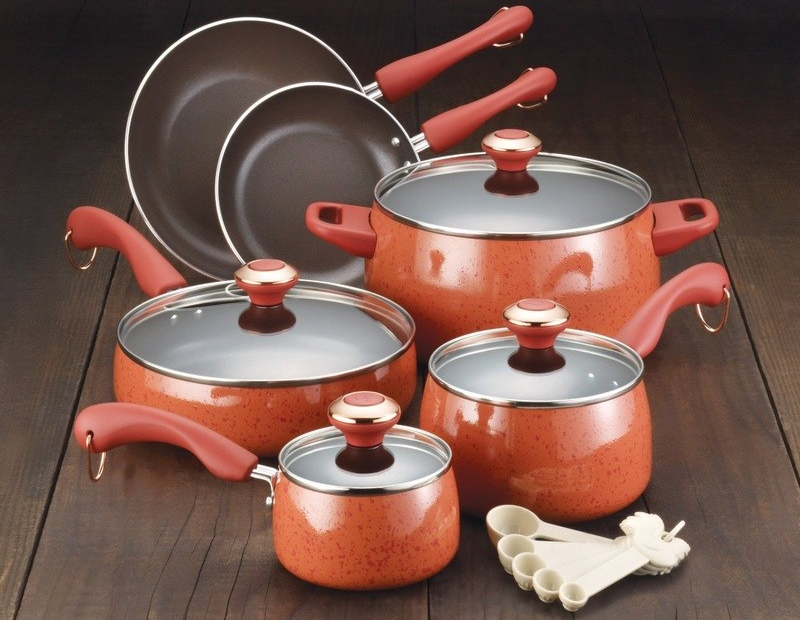 What is hard-anodized cookware?
 In many cases, this term means aluminum that is specially treated with chemicals to make it harder and stronger. This is a more durable form of aluminum and it has a nonstick surface. The material is resistant to corrosion, abrasion, and scratches.
The main benefits of hard anodized cookware
One of the most important features of this material is oil-free, fast cooking and even faster cleaning and maintenance. It's made of lightweight aluminum that makes the pan hot in several minutes. Cleaning is easy because soaking a cloth in soapy water is enough. If you want to cook healthier alternatives to your favorite dishes, hard anodized cookware lets you cook without butter or oil. If the handles aren't made of plastic, you can use the pan in the oven. Just make sure to check manufacturer's instructions.
When you're searching for an affordable set, you can usually expect hard anodized cookware to feature several pots and pans, a saucepan, spatulas and essential accessories that you can use for cooking certain dishes. Oftentimes you get at least two of every item in the set: one large pot and one small pot, etc. Less expensive set features 3 or 5 pieces, whereas largest sets contain 10 or even 15 pieces. Even though you can't get everything at once even with the largest set, it's a great place to start until you become more confident with cooking and know your needs better.
If you're not on a tight budget, you might want to purchase two or three smaller sets at once while still saving money. The pieces that are often included in middle-priced sets are easy to store and most of them are dishwasher-safe. Buying 2 smaller sets can be a better option because you can have a full control over every piece you're getting. Many sets feature nonstick surfaces so you don't have to worry about gentle foods sticking to the surface and ruining the whole dish.
Nonstick properties can come in handy when you cook foods such as eggs. Crepes often stick to the surface and cleaning takes hours. Usually, people like eggs and crepes for breakfast when there is no time to get fancy with foods and we want a delicious meal to be ready immediately. In a hurry, we can burn foods by placing the pan over high heat. Without the nonstick surface, it's hard to control the temperature.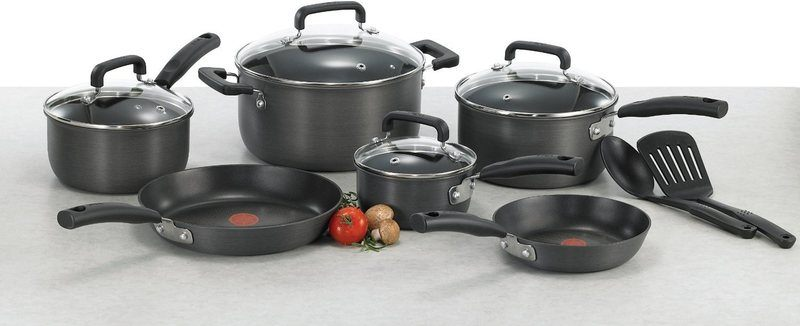 According to the brand, their special coating allows for food to cook quicker and with better quality without the need to increase the heat or burning it. This is a must for beginners. You can use nonstick cookware for baking, roasting or stewing. But you should be careful with thick sauces or frying meats over high heat because they will ruin the coating.
Tefal is famous for developing something new and they've been on the market since the 1960s. One of their most recent innovations is Thermo-Spot technology. Since nonstick coatings are so vulnerable to high heat, the manufacturer says you shouldn't preheat the pan for too long. It's better for the coating to cook over medium-high heat. To help you make everything easier, the company has introduced the Thermo-Spot feature.
There is an indicator on cookware that shows when it's ready to cook. There is a little circle in the middle of the pan that gets red when the surface achieves its optimal temperature. When you don't cook anything, you can't even see the circle. When it's heated, it turns bright red. This will help you preserve your T-fal cookware longer.
If you want a good-quality cookware that doesn't break the budget, then T-fal is a good option to consider. It won't last you for decades but it does the job well and cooks foods evenly. Just remember not to use metallic utensils and acidic detergents that can deteriorate the surface.