Everybody loves Italian food, and in any town, you visit you're likely to find at least a few Italian restaurants to choose from if you are looking to eat out of an evening. The popularity of Italian cuisine cannot be denied, and there's a reason why it's as well loved as it is!
Italian cooking effortlessly combines ingredients that are often very simple in a way that produces delicious and comforting food that you'll want to eat time and time again.
Treating yourself to a meal out at an Italian restaurant is always a really nice thing to do, but if you're looking to improve your skills in the kitchen, you'll be pleased to hear that it is just as enjoyable to make and eat it at home! To get you started, here are 3 fantastic easy dishes you can whip up yourself.
Homemade pizza
We spoke to Bella Cosa, a contemporary Italian restaurant on Canary Wharf to see which dishes they recommend trying at home, and they told us "a lot of people don't realize just how easy it is to make the pizza yourself, and we would encourage anybody to give it a try! It's so much more delicious and authentic than a ready made one from the supermarket".
You can whip up a pizza from scratch in a little over half an hour, and once you've mastered the art you'll be able to eat pizza whenever you want to with only the ingredients in your cupboards! No need to run to the nearest supermarket when those pizza cravings hit. To get you started, we love this recipe from BBC Good Food.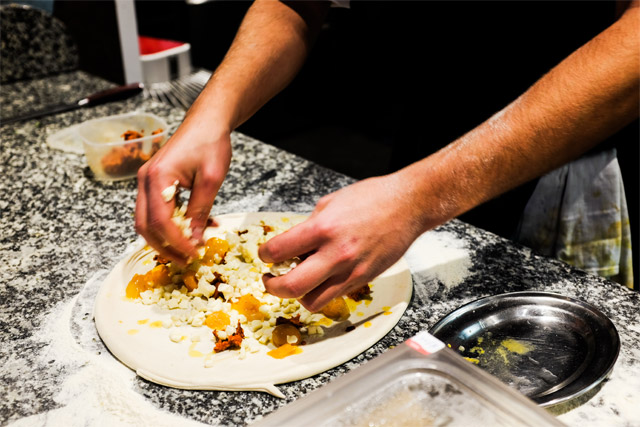 Spaghetti bolognese
Spaghetti bolognese is a staple dish in many households and one that many of us no doubt looked forward to parents or grandparents cooking growing up. What's more, it's a great dish to cook if you're on a budget, and you can keep leftovers in the fridge or freezer which makes it great for batch cooking.
We love this simple recipe from Asda Good Living, featuring simple ingredients and just three easy steps! Once you've mastered it, we're sure that it will be a dish that you want to cook time and time again.
Southern Italian-style chicken
We've covered the Italian staples; pasta and pizza, but there is so much more to try when it comes to food from Italy. If you're looking for something a little bit less heavy on the carbs, then you might enjoy this fuss free super easy to make Southern Italian-style chicken recipe from Jamie Oliver.
This dish features couscous as the accompaniment, which is great for those who are trying to eat healthily, and the dish is full of wonderful flavors including fennel, cinnamon, chili and saffron. The preparation couldn't be easier, but it tastes really delicious! Give it a try, it's sure to become your new favorite dish!
We hope these simple but delicious dishes have given you some inspiration to have a go at cooking Italian food yourself at home and level up your cooking skills in the process.