Unicook gives you an incredible experience in cleaning grill
Grilling food in the open air creates quite a stir since you get to eat quality food while at the same time enjoying the scenery. However, everything sticks to the grill, leaving the tired job to the person who will do the cleaning. It is for this reason that you need to consider getting a good grill brush after buying your own grill. Cleaning your grill after every use will remove any residue that may lead to build-up. Fortunately, the market offers the best grill brush in the form of Nylon Bristles BBQ Grill Brush. This unique grill brush will refresh your grill in a sparkling new look.
Features of Nylon Bristles BBQ Grill Brush
Safe Wire Free Grill Brush
Nylon bristles are the safest grill brushes that you will ever use for your cleaning as they are thick and stiff. This stiffness comes in quite handy as it makes the brush difficult to snap off, unlike the sharp wire bristles grill brush which can be ingested with the grilled food. You will therefore avoid getting any serious injuries or health complications since nylon bristles never hurt you, which are safe to you and your family.
Multifunction
Buying a product that is multifunctional gives you a feeling which cannot be explained to someone who does not own it. Nylon bristles grill brush does exactly since it is designed to serve different purposes rather than cleaning your precious grill only. The brush comes fully fitted with a head scraper blade meaning you can chip off the stubborn debris easily. In addition to this, it also serves as a grid lifter thanks to its dual functional metal hook. With the multifunctional capabilities, you get to save on finances that would otherwise be incurred in buying a new grid lifter. At the same time, it saves the space at the greatest extent since it can be hung up easily.
Ideal for Porcelain Grates
Most grill owners usually come across the problem of damaged porcelain and chrome surfaces when doing their cleaning. What they do not know is that the grill brush cleaner may be the main reason behind their damaged porcelain grates. This is especially the case when using a wire brush for cleaning purposes. Fortunately, the unique nylon bristle grill brush has proven to be an ideal tool for cleaning your grill as it does not damage the surface of porcelain and chrome. You should therefore never worry about the durability of your porcelain grates so long as you are using this BBQ brush.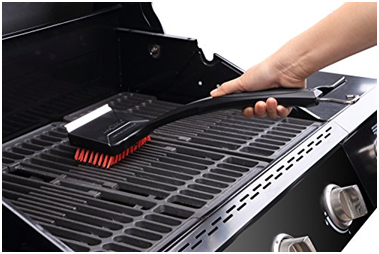 Effective Grill Brush Cleaner
When you look other people cleaning their grill, you will wonder how they manage to pull it off yet the brush in use cannot penetrate in all the areas. They are therefore left with a lot to do even after finishing the cleaning.  You can avoid this embarrassment by purchasing a nylon bristle brush as it guarantees maximum results.
This BBQ brush has an abrasive-infused and angled nylon bristles which clean between and under the grates effectively. A user can clean the areas which cannot be accessed by other grill brushes without breaking any sweat.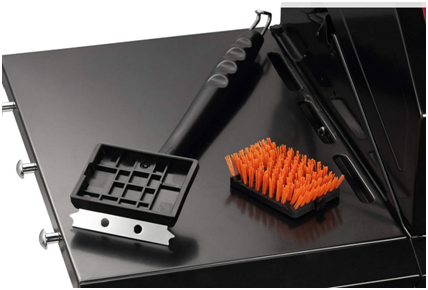 Care and Use
This BBQ brush is easy to use, and you do not need any added experience for cleaning your grill. Here is how you can utilize the nylon bristles brush so as to get a better cleaning effect:
Take all the food from your grill once you have finished preparing the meal.
Switch on the grill on high for close to 15 minutes after taking all the food away. This action burns off any residue left on the grates.
Now turn off the grill and wait for a few minutes before it cools down.
Finally, start cleaning your grill using the nylon bristles brush until you achieve the desired cleanliness. You must remember to make use of the metal scraper on the end as it helps in removing the stubborn solid residue.
It is highly advisable that you use the brush only when the grill has cooled down. This will not only allow you to better protect the grill brush, but also prevent scalding injury.
Where to Buy?
You are probably thinking about the best place to buy this one of a kind BBQ brush. Fortunately, the technology has made it easy for buyers to do shopping since they only have to rely on the internet. The nylon bristle brush is available in online stores such as UNICOOK hence you can make a purchase at any time that you term appropriate. Unicook nylon bristles brush is mainly divided into two kinds of specifications. You can choose it according to your personal preference or grilling requirements.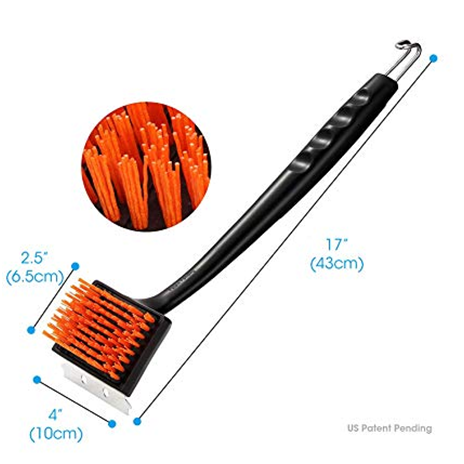 (Unicook 17x 4 x 2.5 Inches Safe Nylon Bristles BBQ Grill Brush)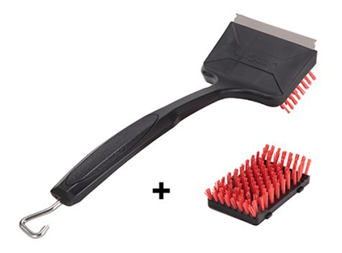 (Unicook 17.5 x 5 x 3 Inches  Safe Nylon Bristles BBQ Grill Brush)
Buying this BBQ brush online comes with a number of advantages. First and foremost, you will get to enjoy after sales services from the online store. Customers who are living within the vicinity will benefit from home delivery services offered by the online store.
Secondly, you will benefit from the 60 days warranty after buying the BBQ brush online. This warranty acts as assurance in the quality of this brush since the manufacturers have total faith in their product.
Your grill cleaning quest will not be complete without buying the Barbecue brush head replacement. This removable head makes it easy for you to clean and make a replacement in case when there is a problem with your BBQ brush. The removable head is also available online, and you can decide to buy it together with the BBQ brush. Stop relying on the old cleaning methods by getting yourself a Nylon Bristles BBQ Grill brush at a pocket-friendly price.
For more info, please visit: http://www.unicook.com
Buy Now: https://www.amazon.com/dp/B075NHM6PS