Local Lisbon food tour package booking is crucial for tourists. It is a Portuguese cuisine, which is loaded with aroma and flavor. You can find it easily in the local restaurants, which serve traditional food.
Never miss out on the following recipes, while in Lisbon
Polvo à lagareiro
Every food tours Lisbon is incomplete without adding this dish – Polvo à lagareiro or grilled Octopus in olive oil to their package. The grilling is done in olive oil, garlic, and salt. The roasted octopus is served with boiled and punched potatoes.
Carne de Porco Alentejana
Portuguese adore clams and pork. Carne de Porco Alentejana combines both these things. Cubed pork gets marinated in aromatic sauce [garlic, paprika, white wine, salt, pepper, and cilantro]. It is fried and then along with clams allowed to cook. As soon as clams get cooked they open. Potato cubes are fried and added. Some restaurants include freshly chopped cilantro or pickled veggies to the dish.
Frango no Churrasco
It means grilled chicken. Many variations have been made in its recipe. Basically, chicken gets grilled and seasoned with a hot sauce called Piri-Piri. It is served with rice, French fries, and a simple salad. Make sure to enjoy this recipe on your food tour Lisbon along with a glass of draft beer or white wine.
Sardinhas
Sardinhas are summer favorites during St. Anthony's festival. You will see the street traffic getting replaced with parties, music and grilled sardines enjoyed with bread. Sardines are hot favorites of the local, so tourists will see cloth-stuffed sardine souvenir displayed in the local shops.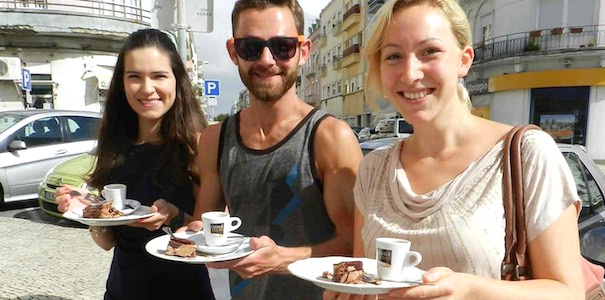 Bifanas
Bifanas or pork sandwich is a cheap but tasty meal to enjoy when on Lisbon food tours. These are made in different ways with a unique twist like adding wine to sauce rather than beer or soaking bread in pork marinade. Thin pieces of meat are marinated overnight in spicy garlic sauce. It is generally served with red pepper.
Arroz de Marisco
The countryside is popular for its green rice fields, so besides seafood Portuguese cooking includes rice. Arroz de Marisco includes a blend of shellfish and rice. Usually, it includes shrimp, mussels, clams, and crabs flavored traditionally with Piri-Piri, garlic, or parsley.